Brad Paisley, Miranda Lambert Take ACM Top Vocalist Honors Brad Paisley has his fourth consecutive win for ACM Top Male Vocalist, while Miranda Lambert has her first-ever trophy for ACM Top Female Vocalist.
Brad, presented the award by Hollywood heartthrob Matthew McConaughey, was still dripping wet from the performance of his latest hit, 'Water,' during which he jumped into a hot tub. So, the notoriously funny singer asked Matthew, "Can I borrow your shirt? You're used to not wearing one," referring to the actor's tendency to show off his six-pack.
"By the way, my wife [actress Kimberly Williams-Paisley] says she loved playing your wife in 'We Are Marshall',' Brad continued. "But she says I'm a better kisser. But they didn't have any kissing scenes in that movie so I have no idea how she knows that."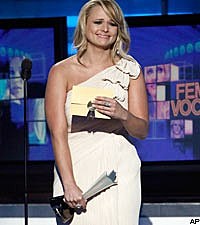 Miranda, given her vocalist honors by actor Josh Duhamel, was visibly shocked to be named the winner. When she heard her name called, the songbird looked at boyfriend Blake Shelton and said, "Are you freaking kidding me?"
"You've got to be kidding me!" she said again, this time into the mic, then giving a humble shout-out to her fellow nominees. "Reba McEntire, Lee Ann Womack, Carrie Underwood, Taylor Swift … and me? I didn't get to thank very many people last time, but I really missed the most important person, which is the Lord. Thank you, Jesus. Thank you to my peers and the people in this business that actually voted for me and cared. Thank you so much to the fans. This is my life and you make it great. Thank you so much."
Miranda ties with Lady Antebellum for the most 2010 ACM Award wins, as each are taking home three trophies from Sunday's live telecast.

Download Brad Paisley Songs | Brad Paisley on AOL Music
Download Miranda Lambert Songs | Miranda Lambert on AOL Music