Everything We Know About Brad Paisley's New Album, 'Love and War'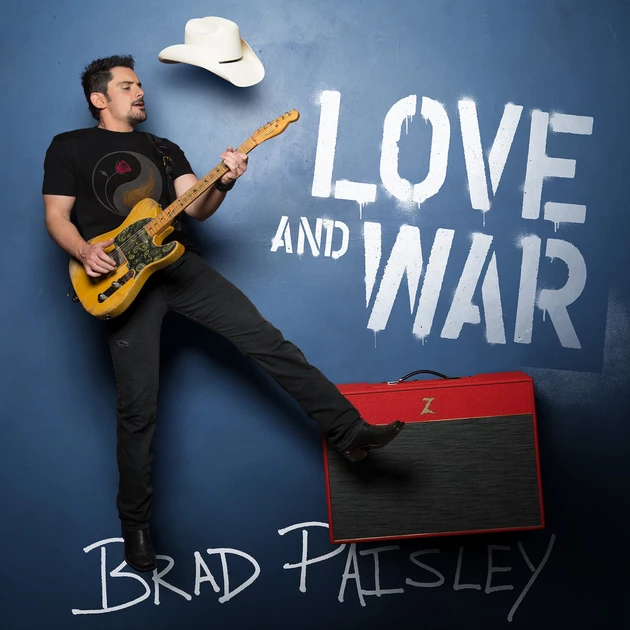 Following the success of Brad Paisley's latest single, "Today," fans are breathlessly awaiting the country superstar's 11th studio album. He's hinted at big-time collaborators, released two tracks and shared the project's release date — and below, The Boot has rounded up everything that's been revealed so far about the record.
The Title
Paisley's new album will be called Love and War. The guitar master first announced the title of his 11th studio album at a performance at the iHeart Radio Theater in November of 2016.
The Release Date
The release date for Love and War was originally set as March 3; Paisley announced that release date in a press released on Dec. 19, 2016. However, in mid-January, the record's release date was postponed, according to an email from Paisley's publicist.
As of Feb. 16, per a new press release, Love and War is scheduled for release on April 21.
The Record Label
Love and War will be released via Arista Nashville, Paisley's longtime label.
The Album Cover
Love and War's album cover features a full-body shot of Paisley, signature white cowboy hat flying off his head, playing his guitar. The album's title appears next to him, spray-painted in white block lettering.
The Producers
Love and War was produced by Paisley and Luke Wooten.
The Single
The first single from Love and War is "Today," which Paisley released in October of 2016. On the surface, "Today" is about living in and appreciating the present, but Paisley also says that he's kept what it means to him "under wraps" because he wants listeners to be able to have their own interpretations of it.
Prior to releasing "Today," Paisley dropped "Without a Fight," a duet with pop star Demi Lovato, in May of 2016. At that time, the song was billed as Love and War's first single, so it is unclear if the tune will make the album or not.
The Songs
A track listing for Love and War hasn't been released yet, but we do know that Lovato isn't the only artist who's collaborated with Paisley recently. Paisley has tweeted about working with famed pop and hip-hop producer Timbaland, and has also been writing with John Fogerty of Creedence Clearwater Revival fame. He even has a song on the album with Mick Jagger!
The Tour
Although Paisley hasn't announced a tour dedicated specifically to Love and War, the singer has extended 2016 Life Amplified World Tour into 2017, with dates scheduled throughout February. From there, he will head to London, England; Glasgow, Scotland; and Dublin, Ireland for the 2017 Country to Country Festival.
More of 2017's New Albums
How Well Do You REALLY Know Brad Paisley?