Blake Shelton Urges 'The Voice' Contestants to 'Listen Up'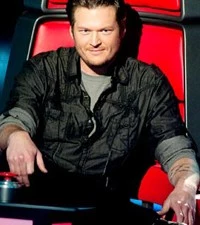 Blake Shelton is back on the road, after taking a few days off to mourn the loss of his father, Dick Shelton, who passed away on January 18 after a lengthy illness. The 'Drink on It' singer is not only continuing his Well Lit & Amplified tour, he's also getting ready to return to 'The Voice' stage, where he will join fellow mentors Christina Aguilera, Cee Lo Green and Adam Levine on the hit vocal-competition series. Blake hopes this year's contestants heed the mentors' words of wisdom.
"All four of us are nominated for Grammys this year," Blake notes (quote via ABC News Radio). "We have hits. So when we give advice, you'd better listen up."
The husband of Miranda Lambert wants the aspiring performers to take him seriously, even though he plans on having a good time in the process. "If we're watching somebody perform and it's not a make-or-break situation, you're damn right I'm drinking a beer or a mixed drink. That's just me. That's how I enjoy music."
The reigning CMA Male Vocalist understands the comparisons between 'The Voice' and another reality talent competition, 'The X Factor,' which also uses the term "coaches" as opposed to "judges." But he is quick to point out there is one major difference between the coaches on 'The Voice' and two of the coaches on 'The X Factor,' industry executives Simon Cowell and L.A. Reid.
"The interesting thing about that for me is that with any one of the four of us, if we see something going on up there on stage, we can stop it and grab the microphone and sing as good or out-sing anyone on our team," he explain to the Vancouver Sun. "That's what we do."
February is shaping up to be a big month for the Oklahoma native. In addition to kicking off the second season of 'The Voice,' immediately after Super Bowl XLVI on Feb. 5, he'll also duet with Miranda on 'America the Beautiful' prior to the big game. One week later, he will head to the Staples Center, to find out if he will take home a Grammy in the two categories in which he's nominated — Best Country Album for 'Red River Blue' and Best Country Solo Performance for 'Honey Bee.'
Blake will also spend much of his time on his tour bus over the next few months, including stops in Florida, Pennsylvania, California, and a show in Columbus, Georgia tonight (January 26). See his entire concert schedule here.
The 54th Annual Grammy Awards will air live from Los Angeles' Staples Center, Feb. 12 at 8:00 PM ET on CBS.
Go Behind-the-Scenes of 'The Voice' With Carson Daly
See a Sneak Peek of 'The Voice' Season 2
#fivemin-widget-blogsmith-image-101123{display:none;} .cke_show_borders #fivemin-widget-blogsmith-image-101123, #postcontentcontainer #fivemin-widget-blogsmith-image-101123{width:570px;height:411px;display:block;}