Blake Shelton to Co-Host 2011 ACM Awards With Reba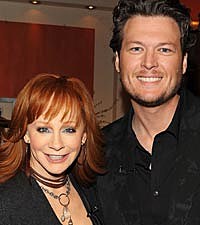 Blake Shelton has some additional duties when this year's Academy of Country Music Awards rolls around in April. He will be sharing hosting duties with Reba McEntire, who has been the solo host of the show for 12 years.
The two, who are both managed by Reba's husband Narvel Blackstock, announced the nominees for last year's ACM Awards together on CBS' 'The Early Show,' and the idea sprung from the camaraderie they displayed on air.
"When they did that, you saw a chemistry," ACM executive director Bob Romeo told USA Today. "They played off each other naturally. They seemed warm and spontaneously funny."
Blake, who took home his very first ACM Award for Vocal Event of the Year for 'Hillbilly Bone' with Trace Adkins, says the producers have been considering the idea of the two hosts for quite some time. "I thought, 'If things keep going good for me, this is probably something I should look forward to,'" says Blake, who also picked up a pair of CMA Awards in November, enjoyed another trip to No. 1 on the charts, scored a Grammy nomination and was inducted into the Grand Ole Opry.
The Oklahoma native adds the producers have expressed some concerns over his sense of humor, which can sometimes cross the line.
"I cut them right off and tell them, 'Guys, don't worry about it,'" he says. "They're a little worried, but I think that makes them excited at the same time."
The executive director is not too worried, though. "Reba can keep him on a leash," says Romeo. "Both Reba and Blake are funny, and they can get out there on you."
In other Blake news, his appearance on the 'Late Show With David Letterman' tonight (January 12) was canceled due to weather. He expressed his disappointment to his fans on his website. "I can't believe the one day I am suppose to fly to New York to perform on Late Show with David Letterman, the local airports cancel all arriving flights. Being bummed out is an understatement. I am hoping we can re-schedule soon though and when we do, you'll be the first to hear about it."
The nominations for the ACM's Top New Solo Vocalist and Top New Vocal Duo or Group have already been announced , and fans will be able to vote for their favorites at either VoteACM.com or GACTV.com/ACM between January 27 and February 24. The winner for Top New Solo Vocalist and Top New Vocal Duo or Group will both move to the Top New Artist category, which fans can vote for between March 11 and April 3.
The rest of the nominations for the 46th Academy of Country Music Awards will be announced next month. The show will broadcast live from the MGM Grand Garden Arena in Las Vegas on April 3 at 8:00 PM ET/PT on CBS.
%VIRTUAL-globalVideoEmbed-{"videoIds":"517721629″,"width":"476″,"height":"357″}%