Blake Shelton, 'Over' Is Lucky Number Seven in a Row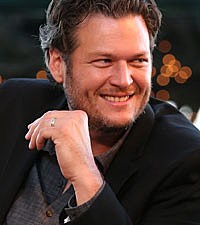 Blake Shelton is seven for seven with his latest radio singles. His emotional hit "Over" tops the charts this week, making for his seventh consecutive single to claim the No. 1 bragging rights.
Written by David Elliott Johnson and Paul Jenkins, "Over" is the fourth song released from Blake's platinum-selling Red River Blue album. It follows the No. 1 hits "Honey Bee," "God Gave Me You," "Drink on It," "Who Are You When I'm Not Looking," "All About Tonight" and "Hillbilly Bone."
The country superstar is now gearing up for the Sept. 10 season premiere of "The Voice," followed by the Oct. 2 release of his first holiday album, Cheers It's Christmas.
Watch Blake Shelton's 'Over' Video
%VIRTUAL-globalVideoEmbed-{"videoIds":"517578515″,"width":"476″,"height":"357″}%