Blake Shelton, 'Over' – Live Performance on 'The Voice' (VIDEO)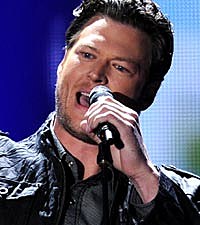 If Blake Shelton were actually a contestant on "The Voice," would the judges turn their chairs around for him? Based on his live performance Monday night of his new song, "Over," the answer is most definitely yes. The country superstar and "Voice" mentor delivered a killer rendition of the mid-tempo tune on the live show. Watch his performance below.
Season 2 of "The Voice" is now down to eight contestants. Team Blake boasts vocal powerhouses Erin Willett and Jermaine Paul, who both received nothing but praise for their performances Monday night. Erin sang Usher and David Guetta's "Without You," in a tribute to her late father. Jermaine sang his heart out to Journey's "Open Arms."
Tonight's (May 1) episode will see four contestants go home. "The Voice" airs on NBC at 9:00 PM ET.
Watch Blake Sing "Over" on "The Voice"