Blake Shelton, Miranda Lambert Anniversary Celebration to Be After-Noon Delight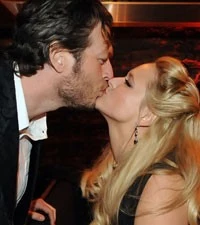 This past weekend, Blake Shelton and wife Miranda Lambert were both in the California desert for the annual Stagecoach Music Festival. The shows they were each about to perform weren't the only thing on their minds, though. The couple celebrate their one-year wedding anniversary on May 14, and KSON-FM/San Diego morning co-hosts John and Tammy decided to quiz the "Voice" coach on plans for the special day with his better half. (Watch the interview below.)
"I hope she said staying home," Blake answered when they made him guess what Miranda wants to do on their anniversary.
And the exact time that the blond beauty expects her hubby home? "Noon?" he guessed, and after being reassured with applause, joked, "The reason I know that is because that's when she wakes up, normally."
Blake also commented on how his touring life has changed now that the missus has invited former "Voice" contestant RaeLynn out on the road.
"Between RaeLynn and Miranda, there's an oxygen depletion, because they're talking so much that you can actually feel the concussion of the oxygen being pulled out of the area," he mused. "Then you feel a little bit dizzy and woozy. So, I've just been standing around outside, just breathing."
Another high point of the interview was when John pointed out how much exposure the Oklahoma native has been getting as of late. "I'm tired of me!" Blake said with a smile. "Things are going good, and I don't know … I'm just happy about it. I'm happy to have the chance to keep on singing country music. What 'The Voice' has done for me is kind of reintroduced me over again. I don't know how to explain it other than that. That's really the only thing that's different and things are happening in a way I thought would never happen."

Watch Blake's Stagecoach Interview