Blake Shelton Cuts 'Footloose' for New Movie Soundtrack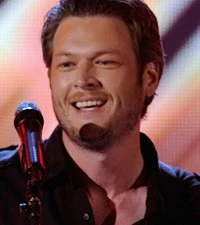 Blake Shelton will kick off his Sunday shoes for the new 'Footloose' movie soundtrack. The country superstar and beloved coach of 'The Voice' has been tapped to remake the iconic movie's theme song, originally recorded by Kenny Loggins.
Entertainment Weekly reveals the track listing for the album, which also includes songs by Zac Brown, Whitney Duncan, Big & Rich, Gretchen Wilson, Jana Kramer, Hunter Hayes and Blake's fellow 'Voice' coach Cee Lo Green, among others. Oddly enough, Julianne Hough's voice is not heard on the CD, even though she has a major role in the film. The dancing pro/country singer/actress plays preacher's daughter Ariel, who falls for the main character, Ren.
See the full 'Footloose' soundtrack song list below. The movie, a remake of the 1984 cult classic starring Kevin Bacon, is scheduled to hit theaters nationwide October 14.
'Footloose' Track Listing:
1. 'Footloose – Blake Shelton
2. 'Where the River Goes' – Zac Brown
3. 'Little Lovin' – Lissie
4. 'Holding Out for a Hero' – Ella Mae Bowen
5. 'Let's Hear It for the Boy' – Jana Kramer
6. 'So Sorry Mama' – Whitney Duncan
7. 'Fake I.D.' – Big & Rich feat. Gretchen Wilson
8. 'Almost Paradise' – Victoria Justice & Hunter Hayes
9. 'Walkin' Blues' – Cee Lo Green featuring Kenny Wayne Shepherd
10. 'Window Paine' – The Smashing Pumpkins
11. 'Suicide Eyes' – A Thousand Horses
12. 'Dance the Night Away' – David Banner
Watch the 'Footloose' Movie Trailer
if(typeof AOLVP_cfg==='undefined')AOLVP_cfg=[];AOLVP_cfg.push({id:'AOLVP_us_1017471349001′,'codever':0.1,'autoload':false,'autoplay':false,'playerid':'61371447001′,'videoid':'1017471349001′,'publisherid':1612833736,'playertype':'pageload','width':476,'height':357,'videotitle':'Test','bgcolor':"});