Billboard Top Earning Artists 2012 List Includes Country Heavyweights
Tim Boyles, Getty Images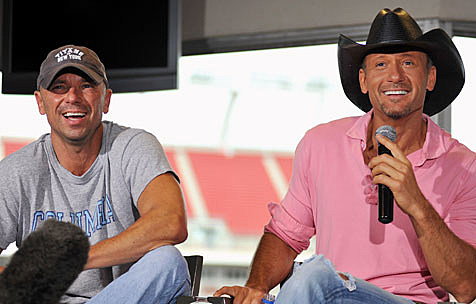 Tim Boyles, Getty Images
With worldwide tours, multi-platinum-selling albums and multiple TV appearances, country artists are quickly earning a reputation as some of the hardest-working artists in music, and it seems their efforts are paying off, literally. Billboard magazine has compiled a list of the top-earning artists of 2012, including album and ringtone sales, downloads and other means of revenue, and Music City's stars make up one-third of the top 40 spots.
Kenny Chesney is the highest-earning country artist on the list at No. 5, earning a respectable $19,148,525.24, with his Brothers of the Sun touring partner Tim McGraw only two spots and less than one million dollars behind him, making $18,329,167.89.
Jason Aldean is close to Tim in the No. 8 spot, raking in an impressive $17,578,651.96. Award-winning trio Lady Antebellum secured the No. 12 spot, with $12,968,992.17, while Brad Paisley is right behind them with $12,848,724.84. Taylor Swift claims the 15th spot with $12,695,783.32, while Carrie Underwood trails her with an annual paycheck of $11,942,956.65.
Eric Church comes in at No. 18, earning $11,015,773.11, while Rascal Flatts are only a couple hundred-thousand dollars behind him, making $10,777,282.68. Singer and restaurateur Toby Keith lands at No. 23, making $9,805,764.04. Miranda Lambert, with $8,818,536.04, took the 27th spot, edging out her husband, Blake Shelton, by 13 spaces and a few million, with his appearance on "The Voice" helping him nab the final spot on the list with $5,914,591.11. The Zac Brown Band came in a couple slots ahead of Blake at No. 37, with $6,682,797.58.
Madonna tops the list overall, making more than $34,577,308.62. Bruce Springsteen came in at No. 2 with $33,443,606.64, while Roger Waters is at No. 3 with $21,160,131.06 and Van Halen right behind him with $20,184,709.91.
Other artists on the list include Coldplay, Justin Bieber, Adele, Celine Dion, Nickelback, Neil Diamond and Andrea Bocelli. See the complete list here.