The Band Perry, 'You Lie' — Story Behind the Lyrics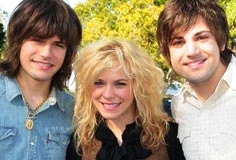 Brian Henningsen and two of his 10 children, Clara and Aaron, tried their luck at songwriting a few years ago. Little did they imagine that a meeting with famed producer Paul Worley would introduce them to a group we now know as the Band Perry. Not only did the Band Perry record some of the Henningsens' songs — including the Top 10 hit, 'You Lie' — but the two families have developed a deep friendship and writing partnership.
Brian and Clara recently sat down with The Boot to talk about the story behind writing 'You Lie.'
Brian: The song started out as a Clara song. She had the basic vocal lick and the basic theme of the song, and she had started the chorus. We were sitting around at my house and I said, "It needs something a little more jazzy." I blurted out, "You lie like a priceless Persian rug on a rich man's floor/ and you lie like a coon dog basking in the sunshine on my porch / Well, you lie like a penny in a parking lot at the grocery store."
Normally, you have to slug out the lines but those just fell out. The dog and the rug, those are old sayings. They're country colloquialisms. A lot of the lyrics are a bit of a pun. One true line is in the second verse when we threw in "lie like the man with the slicked-back hair who sold me that Ford." Now, that's true [laughs]. We had to get that one in there.
Clara: I started writing it in 2008. I remember writing the chorus because I just wanted a song where a girl is tired of this dude lying to her all the time. When my dad started blurting out that stuff, [especially] "I never liked the taste of crow but baby, I ate it," [Aaron] and I looked at him and said, "What? What do those things mean?" At first, we didn't think those would work but they all ended up in the song!"
[The Band Perry told The Boot that's the line that drew them into the song and made them want to record it. They have since told us it's their favorite line on the entire album!]
Brian: When we finished the chorus of the song, we just loved it. At that time, we didn't have a publishing deal but we were talking to Paul Worley [co-producer of the Band Perry's debut album] and played him the chorus. He just flipped. We knew we had something really cool. After that, we went to Aaron's house in Franklin, Tenn., and proceeded to slug through the verses. Writing the song took most of the day. We wanted it to be a very concentrated story. We want our songs to paint a movie in your head. The whole song is basically wordplay, slightly tongue-in-cheek and a little dark humor to try to make it conversational. We played the whole thing for Paul Worley and his [colleagues] and it became one of our standards.
One day, Paul told us about [the Band Perry] he was working with. He told us they were a family and we would understand their dynamic. We loved the way they sounded and we played that song and some others we had written. They loved them, too. They are really good folks and our two families are all good friends. We're doing some more writing with them this summer when they're on the road.
Clara: And now 'You Lie' is a a Top 10 song! I just can't believe it!
if(typeof AOLVP_cfg==='undefined')AOLVP_cfg=[];AOLVP_cfg.push({id:'AOLVP_814419834001′,'codever':0.1,'autoload':false,'autoplay':false,'displaymnads':true,'playerid':'89761511001′,'videoid':'814419834001′,'width':476,'height':357,'playertype':'inline','stillurl':'dynamic','videolink':'#','videotitle':'dynamic','videodesc':"});