Ashton Shepherd Expecting Baby No. 2!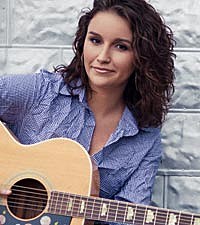 She kicked off the year with a brand new single, 'Look It Up,' and now Ashton Shepherd has yet another reason to celebrate 2011. The singer-songwriter announced Wednesday (March 2) that she is expecting her second child!
"Our little boy James is five and doing fine. We just hope the new baby will turn out to be just as healthy," Ashton gushed from the Ryman stage before performing as part of Univeral Music Group's special Country Radio Seminar show (quote via Country Weekly).
Chances are, the new baby will inherit his mother's love of music just like his big brother. "He just got a big set of drums and a stereo for his birthday," Ashton boasts to The Boot about her little boy. "He plays his drums a lot in the Pickin' Shed. He loves to play Lynyrd Skynyrd's 'Gimme Back My Bullets.' We'll put it on and he'll just play and play to it. He's such a big fan of mine, and the sweetest little thing."
Ashton will head to New York City later this month for a March 24 performance for the CMA Songwriter Series, along with Rivers Rutherford, Bob DiPiero and Chris Wallin. Tickets for the 6:30 and the 9:00 show are still available and can be purchased here. Her new single, the album's title track, is steadily climbing the charts. Listen to it here.
Watch 'Look It Up'
if(typeof AOLVP_cfg==='undefined')AOLVP_cfg=[];AOLVP_cfg.push({id:'AOLVP_xxxxxxxxxx','codever':0.1,'autoload':false,'autoplay':false,'displaymnads':true,'playerid':'89761511001′,'videoid':'xxxxxxxxxx','width':476,'height':357,'playertype':'inline','stillurl':'dynamic','videolink':'#','videotitle':'dynamic','videodesc':"});