Brad Paisley, Ben Hayslip, Don Williams Take Top ASCAP Honors
Dierks Bentley, Jennifer Nettles, Lee Ann Womack, Keith Urban, Bucky Covington, Kenny Loggins and Josh Turner mingled with newcomers Eric Paslay, Angaleena Presley, Wade Bowen and other elite from country music's writing and publishing community at the 49th Annual ASCAP Country Awards last night (Nov. 6) at Nashville's famed Opryland Hotel. Brad Paisley was named Songwriter/Artist of the Year for the second time, repeating the honor he first won in 2004. Sea Gayle Music, the publishing company Brad co-owns with his producer Frank Rogers and frequent collaborator Chris DuBois, was named ASCAP Country Publisher of the year for the second consecutive year.
Hit songwriter Ben Hayslip took home his first ASCAP Songwriter of the Year honor for penning five of the most performed songs of the year—Blake Shleton's hit 'All About Tonight,' Josh Turner's 'All Over Me,' Rodney Atkins' 'Farmer's Daughter' and Joe Nichols' 'Gimmie That Girl' and 'The Shape I'm In.' Ben is well-known on Music Row as one of the Peach Pickers, a trio of Georgia songwriters that includes Dallas Davidson and Rhett Akins.
"It's an unbelievable honor," Ben told The Boot. "I dreamed of being a lot of things in my life from a major league baseball player to an NFL quarterback to a songwriter, but never, ever did I dream about being Songwriter of the Year. I didn't think it was possible."
'The House That Built Me,' penned by Allen Shamblin and Tom Douglas, was named ASCAP Country Song of the Year. "I knew I loved it, but I didn't know initially the impact it was going to have," Allen told The Boot in discussing the multi-award winning Miranda Lambert hit. "There's a deep longing in all of us for home, and peace, rest and community. The more the world gets crazy, that longing is stirred even more and the song resonated with people because of that."
Looking svelte in a black Donna Karan ensemble, Sugarland's Jennifer Nettles lauded ASCAP for recognizing Music Row's writers. "I just love that it's here to celebrate the songwriter," Jennifer told The Boot on the red carpet. "Obviously as an artist and a songwriter, I have the pleasure of being able to come together with other artists and have celebrations and have awards ceremonies that are to recognize that part, but to be able to be recognized as a songwriter — and for some of these people who are songwriters and not artists — this is a big, big night. It's important to come and support and be excited for them and wave the flag for songwriting."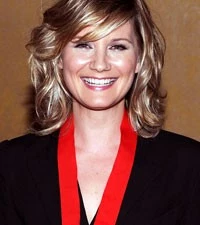 Jennifer received an ASCAP honor for Sugarland's hit 'Stuck Like Glue.' "It's different. It holds a different weight, a different gravity, a different significance," Jennifer says of winning an award for her songwriting. "As a singer/songwriter, songwriting is half of that. To be able to use music and use words and write them in such a way that you can express it vocally, it's the best all around. It's a win/win on both sides."
Dierks Bentley, who was named ASCAP's Songwriter/Artist last year, kicked off the black tie dinner with a performance of his current hit, 'Home.' "This is my favorite crowd of people in Nashville. This is the songwriters and publishers, the most important people in Nashville and in country music," Dierks told The Boot as he was heading into the ballroom for the evening's festivities. "It all starts with a song, so to get a chance to play a song I wrote in front of this audience is as special, if not more so, than playing the CMAs."
In addition to Dierks' amazing performance, the evening included a special musical tribute to Don Williams. Keith Urban and Little Big Town honored the legendary singer/songwriter with a performance of 'We've Got a Good Fire Goin" and Lee Ann served up a stirring rendition of one of Don's biggest hits, 'Lord, I Hope This Day Is Good.' ASCAP President/Chairman Paul Williams and ASCAP Writer Board Member Wayland Holyfield presented Don with ASCAP's Golden Note Award saluting the icon for his "universal lyrics, heartfelt melodies and human touch [which] have earned him an extraordinary place in American popular music."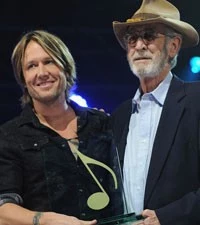 Those in attendance were eager to share their favorite Don Williams song. Dierks cited Don's 1978 hit 'Rake and Ramblin' Man.' Singer/songwriter Georgia Middleman grew up singing along to 'I Believe in You' while Ben cited 'Lord, I Hope This Day Is Good.' "'Good Ole Boys Like Me' is at the top of the list of songs I wish I'd written," Chris DuBois told The Boot. "I love it!"
Hit songwriter Chris Stapleton, a longtime Don Williams fan, took time on the red carpet to share a story about a song that holds special significance to him. "Years ago, there was a friend I went to high school with and I sang at her parents' wedding anniversary. They wanted me to sing a Don Williams song, 'You're My Best Friend.' It's a beautiful song," Chris related. "I hadn't thought about it in years and a month ago, through Facebook, my friend contacted me and said 'I just wanted you to know that my parents talked about the time you sang at their anniversary all the time.' Her father had passed away and she said, 'The last week he was alive he talked about the time you came and sang that song, and my mom was singing it to him when he passed away.' For me, I think about that song now and it reminds me how country music can really touch people. I don't know how many years ago that was a hit, but it still touches people today. I have a special place in my heart for Don Williams because of that song and that story."
Sea Gayle Records newcomer Wade Bowen recently had the honor of opening for Don at a show in Austin. "I got to open up for him about a month ago and it was a dream come true," Wade told The Boot. "It was truly amazing. I actually did get paid, but I would have done it just for tickets to sit out front and listen to his show."
During the evening, the Civil Wars were recognized with the ASCAP Vanguard Award, created to "recognize the impact of musical genres that help shape the future of American music." Though Joy Williams and John Paul White weren't able to attend th event, they accepted via video. Past ASCAP Vanguard Award honorees include Sara Bareilles, Beastie Boys, Beck, Nine Inch Nails, Arcade Fire, The Killers, Jack Johnson and Björk.
During the evening, ASCAP recognized the writers and publishers of 36 hit tunes. The Lady Antebellum hit 'Need You Now' was acknowledged with the ASCAP Global Impact Award in honor of the song's multi-format success. Songwriter Josh Kear accepted the honor.
For many writers, the ASCAP gala is a night to reminisce about a song was written or where they were when they found out it was getting recorded. Georgia Middleman recalls getting a special phone call from co-writer Radney Foster letting her know that Keith Urban was recording their collaboration 'I'm In.' "I was having a really bad day and Radney Foster called me and said 'Georgia, are you sitting down?'" Georgia told The Boot on the red carpet. "He said, 'Keith Urban just taught his band our song. He's cutting it for his next record!' I was just over the moon. It was just amazing and he did such a good job on it."
For Music Row's top publishers, it's a time to relax and enjoy their company's hard earned success. "It's a shared vision for what great music is between the three partners, myself, Frank Rogers and Brad Paisley," Chris told The Boot in trying to pinpoint what has made Sea Gayle successful. "We all not only have the same vision for what great music is, we are all incredibly competitive at what we do and are hard workers. We try to lead by example at the company and the fact that we're songwriters, we can set the tone as far as work ethic goes and we can relate to the writers and try to create a laid back, creative atmosphere for the writers to work in."
As the ASCAP gala kicks off a busy weeks of awards shows and events in Nashville, Jennifer Nettles is among those bracing themselves for a whirlwind of activity. "It's so crazy," she says. "The hard part is the schedule, but I love being able to see everybody and I love that everybody is here to have a good time. It's a big celebration and it's all about music. To be able to come together and celebrate that, that ain't bad."