Andy Gibson Signs With Curb Records
Jason Kempin, Getty Images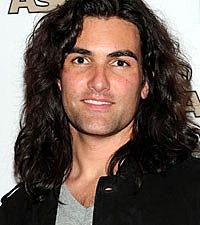 Jason Kempin, Getty Images
Congrats to Andy Gibson, who has signed a recording contract with Curb Records, home to Rodney Atkins, Lee Brice and LeAnn Rimes, among others. The label switch is followed by news that his previous imprint, R&J Records, is closing its doors, according to Country Aircheck. The year-old label was also home to the LoCash Cowboys, Aaron Lewis and, with sister label Emrose Records, Maggie Rose.
Andy's current single "Wanna Make You Love Me" is in the top 30 on the charts, which led to a family freak out. "I was stuck in Los Angeles in downtown traffic," he tells The Boot. "The song came on the radio, it was like 2 o'clock in the afternoon. I was there with my twin nieces and my sister, and they're freaking out in the car. I can't believe it's on the radio. I videoed it on my iPhone. I recorded the moment because I couldn't believe it! I didn't know what else to do."
The singer-songwriter also co-wrote the No. 1 Jason Aldean and Kelly Clarkson collaboration, "Don't You Wanna Stay," so hearing his work on broadcast to the masses isn't too unfamiliar.
"Having someone like [Jason and Kelly] endorse your music while they sing it and perform it is awesome is," he says. "I'm not so much of a stranger anymore. People hear that song and they know, 'OK, that's the music that he makes.' It's a cool thing to go out and tell, and it introduces you to people in an indirect way."
Andy is on the road. His next stop is today (April 23) in Schenectady, N.Y. Check out his concert schedule here.