American Giving Awards 2012: Randy Travis, Darius Rucker, Colbie Caillat to Perform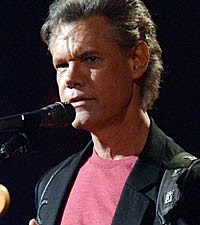 The American Giving Awards (AGAs) have confirmed exclusively with The Boot that country legend Randy Travis will perform at this weekend's show, marking his first awards-show appearance in several years.
Other performers and presenters joining the newly-sober star on the primetime special include Darius Rucker, Natasha Bedingfield, Colbie Caillat, Gary Sinise and Jenna Elfman. Actress Glenn Close will be honored for her charitable efforts and "Community" star Joel McHale will host the special, which airs Saturday, Dec. 8 at 8:00 PM ET on NBC.
Airing for the second consecutive year in primetime, the AGAs are a celebrity tribute to community heroes, highlighting 25 past Chase Community Giving charity winners from across the country. Five of the winners will share $2 million in Chase grants in order to continue their impactful work in the communities they serve. Each charity will be introduced by a high-profile star and celebrated with videos showcasing their incredible work. In addition, several surprises await the honored charities as grant recipients are revealed throughout the telecast.
For more information, visit the official NBC America Giving Awards website. Follow the Chase Community Giving Facebook page here.
Watch American Giving Awards 2011 Coverage
See Photos of Randy Travis Through the Years