ACA Awards Preview: Coming Up Tonight, Live From Las Vegas!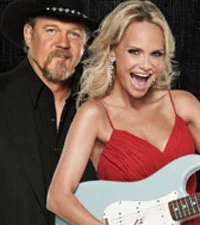 With just hours to go until the second annual American Country Awards, two big additions to the show have been announced. Chris Young has been added to the performance line-up for tonight's live broadcast, with Blake Shelton, Alabama, Thompson Square, the Eli Young Band, the Band Perry and show co-hosts Trace Adkins and Kristin Chenoweth all taking the stage for performances during the two-hour ceremony.
Also newly announced today is a new ACA honor: Artist of the Decade. While all of the categories are fan-voted, this new one is strictly mathematical. During the show, there will be a countdown of the Top 10 Country Artists of the Decade, based on Mediabase spins from Jan. 1, 2001 through Dec. 31, 2010. The show will conclude with the crowning of the Artist of the Decade, based solely on radio airplay.
Trace returns to the ACAs for the second year as host, and promises to keep his Broadway star-turned-country singer co-host on her toes for her new gig.
"She's a fairly petite lady. I'm not going to let her get away with that either. I'm going to have to bring that to her attention at some point, her shortcomings," jokes Trace about his new co-host's stature (quote via GAC). "As far as I know, they're not making any special provisions. Perhaps somebody might have to carry around an apple box for her everywhere, but I don't know."
Jason Aldean and the Zac Brown Band lead the nominee pack, with both superstar acts nabbing eight nods, including Artist of the Year and Album of the Year for 'My Kinda Party' and 'You Get What You Give,' respectively. On the strength of their monster No. 1 debut single, 'Are You Gonna Kiss Me or Not,' newcomers Kiefer and Shawna Thompson of Thompson Square can potentially walk away with seven trophies tonight, including Single of the Year and Artist of the Year: New Artist. "The last year of our lives have been completely surreal," confesses Kiefer. "We've never had a dream come true before. We didn't know what that felt like until recently."
Country superstar Taylor Swift and breakthrough act the Band Perry follow in nominations, both earning nods in six categories. Click here to view a full list of nominees.
Alabama will receive the Greatest Hits award during the ceremony, commemorating the band's significant impact on country music through radio airplay. The award, given to an act with an impressive catalog of No. 1 singles, highlights the veteran band's 43 chart-toppers earned throughout their 30-year career. Alabama has had more No. 1 singles and sold more concert tickets than any other band in country music history.
The nominees for each award category have been determined by four media measurement companies: BigChampagne (record sales and media consumption); Great American Country (video airplay); Mediabase (radio airplay); and Pollstar (touring data). But it's the fans who have determined the winners, by casting their votes online.
Also making appearances on the ACA stage tonight are Lauren Alaina, Miranda Lambert, Scotty McCreery, actress Rachel Bilson and the cast of 'Pawn Stars.' Tune in tonight (Dec. 5) at 8:00 PM ET on FOX to catch all the performances and winners.
if(typeof AOLVP_cfg==='undefined')AOLVP_cfg=[];AOLVP_cfg.push({id:'AOLVP_1218906643001′,'codever':0.1,'autoload':false,'autoplay':false,'displaymnads':true,'playerid':'89761511001′,'videoid':'1218906643001′,'width':476,'height':357,'playertype':'inline','stillurl':'dynamic','videolink':'#','videotitle':'dynamic','videodesc':"});