2016 Grammy Awards — Country Winners List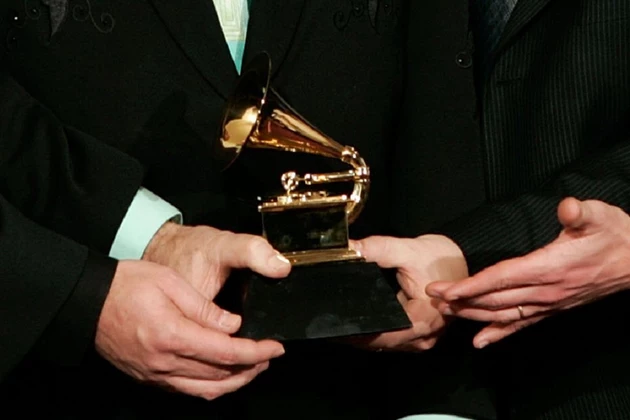 The 2016 Grammy Awards will made Monday (Feb. 15) a night full of great music, beautiful fashion and big winners. Beginning with the 2016 Grammy Awards Premiere Ceremony, and then continuing with the televised ceremony, Music's Biggest Night left some country stars' trophy cases a little bit fuller.
Little Big Town and Chris Stapleton were two of country music's biggest winners at the 2016 Grammy Awards, and Jason Isbell earned two key victories as well. A complete list of country nominees at the 2016 Grammy Awards is below; you can also see how our readers' and staff's predictions stacked up against the night's actual winners.
2016 Grammy Awards Country, Americana, Bluegrass and Folk Winners
Country Categories
Best Country Album
Montevallo, Sam Hunt
Pain Killer, Little Big Town
The Blade, Ashley Monroe
Pageant Material, Kacey Musgraves
Traveller, Chris Stapleton — WINNER
Best Country Song (Awarded to Songwriters)
"Chances Are," Lee Ann Womack
"Diamond Rings and Old Barstools," Tim McGraw feat. Catherine Dunn
"Girl Crush," Little Big Town — WINNER
"Hold My Hand," Brandy Clark
"Traveller," Chris Stapleton
Best Country Solo Performance
"Burning House," Cam
"Traveller," Chris Stapleton — WINNER
"Little Toy Guns," Carrie Underwood
"John Cougar, John Deere, John 3:16," Keith Urban
"Chances Are," Lee Ann Womack
Best Country Duo / Group Performance
"Stay a Little Longer," Brothers Osborne
"If I Needed You," Joey + Rory
"The Driver," Charles Kelley, Dierks Bentley and Eric Paslay
"Girl Crush," Little Big Town — WINNER
"Lonely Tonight," Blake Shelton feat. Ashley Monroe
Best Americana Album
The Firewatcher's Daughter, Brandi Carlile
The Traveling Kind, Emmylou Harris and Rodney Crowell
Something More Than Free, Jason Isbell — WINNER
Mono, The Mavericks
The Phosphorescent Blues, Punch Brothers
Best American Roots Song (Awarded to Songwriters)
"All Night Long," The Mavericks
"The Cost of Living," Don Henley and Merle Haggard
"Julep," Punch Brothers
"The Traveling Kind," Emmylou Harris and Rodney Crowell
"24 Frames," Jason Isbell — WINNER
Best American Roots Performance
"And Am I Born to Die," Bela Fleck and Abigail Washburn
"Born to Play Guitar," Buddy Guy
"City of Our Lady," The Milk Carton Kids
"Julep," Punch Brothers
"See That My Grave Is Kept Clean," Mavis Staples — WINNER
Best Bluegrass Album
Pocket Full of Keys, Dale Ann Bradley
Before the Sun Goes Down, Rob Ickes and Trey Hensley
In Session, Doyle Lawson & Quicksilver
Man of Constant Sorrow, Ralph Stanley & Friends
The Muscle Shoals Recordings, The SteelDrivers — WINNER
Best Folk Album
Wood, Wire & Words, Norman Blake
Bela Fleck and Abigail Washburn, Bela Fleck and Abigail Washburn — WINNER
Tomorrow Is My Turn, Rhiannon Giddens
Servant of Love, Patty Griffin
Didn't He Ramble, Glen Hansard
Other Categories Featuring Country Artists
Record of the Year
"Really Love," D'Angelo and the Vanguard
"Uptown Funk," Mark Ronson feat. Bruno Mars — WINNER
"Thinking Out Loud," Ed Sheeran
"Blank Space," Taylor Swift
"Can't Feel My Face," The Weeknd
Album of the Year
Sound & Color, Alabama Shakes
To Pimp a Butterfly, Kendrick Lamar
Traveller, Chris Stapleton
1989, Taylor Swift — WINNER
Beauty Behind the Madness, The Weeknd
Song of the Year (Awarded to Songwriters)
"Alright," Kendrick Lamar
"Blank Space," Taylor Swift
"Girl Crush," Little Big Town
"See You Again," Wiz Khalifa feat. Charlie Puth
"Thinking Out Loud," Ed Sheeran — WINNER
Best New Artist
Courtney Barnett
James Bay
Sam Hunt
Tori Kelly
Meghan Trainor — WINNER
Best Pop Solo Performance
"Heartbeat Song," Kelly Clarkson
"Love Me Like You Do," Ellie Goulding
"Thinking Out Loud," Ed Sheeran — WINNER
"Blank Space," Taylor Swift
"Can't Feel My Face," The Weeknd
Best Pop Duo / Group Performance
"Ship to Wreck," Florence + the Machine
"Sugar," Maroon 5
"Uptown Funk," Mark Ronson feat. Bruno Mars — WINNER
"Bad Blood," Taylor Swift feat. Kendrick Lamar
"See You Again," Wiz Khalifa feat. Charlie Puth
Best Pop Vocal Album
Piece By Piece, Kelly Clarkson
How Big, How Blue, How Beautiful, Florence + the Machine
Uptown Special, Mark Ronson
1989, Taylor Swift — WINNER
Before This World, James Taylor
Best Compilation Soundtrack for Visual Media
Empire: Season 1
Fifty Shades of Grey
Glen Campbell: I'll Be Me — WINNER
Pitch Perfect 2
Selma
Best Recording Package
Alagoas, Alagoas
Bush, Snoop Dogg
How Big, How Blue, How Beautiful, Florence + the Machine
My Happiness, Elvis Presley
Still the King: Celebrating the Music of Bob Wills and His Texas Playboys, Asleep at the Wheel — WINNER
Best Music Video
"LSD," ASAP Rocky
"I Feel Love (Every Million Miles)," The Dead Weather
"Alright," Kendrick Lamar
"Bad Blood," Taylor Swift feat. Kendrick Lamar — WINNER
"Freedom," Pharrell Williams
See Pictures From the 2016 Grammy Awards