2014 ACM Awards Nominations: Country Stars React on Twitter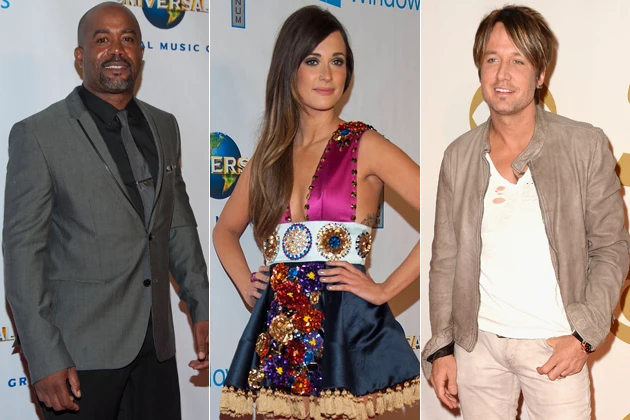 The nominees for the 2014 ACM Awards were announced Wednesday morning (Jan. 29), and some of country's biggest stars have plenty to be thankful for.
Miranda Lambert and Tim McGraw led the pack with a whopping seven nominations each, while her husband, Blake Shelton, received five. Kacey Musgraves and Lee Brice also received five apiece, while other multiple nominees include Luke Bryan, Florida Georgia Line, Lady Antebellum and Darius Rucker.
Some of the nominees took to social media to express their excitement and gratitude — and, in the case of one multiple nominee, her breakfast plans.
So PUMPED to be nominated for the @ACMawards Duo of the Year! See ya'll in #vegas !! Maybe we'll play this! http://t.co/Gill9ZfsIR

— John Rich (@johnrich) January 29, 2014
What a week! Excited for the @ACMawards in April to celebrate #WagonWheel. 3 #ACMnoms. Crazy. Thanks #TrueBelievers pic.twitter.com/QkoKEmw0NY

— Darius Rucker (@dariusrucker) January 29, 2014
Ahhhhhhhhhh just heard about @ACMawards noms… absolutely blown away!!!! THANK YOU EVERYBODY!!! Big love to Tim, Taylor & Miranda too! – KU

— Keith Urban (@KeithUrban) January 29, 2014
Giving thanks to God, our amazing fans and country radio today for our 4 @ACMawards nominations this morning. We… http://t.co/ghYmCSNUfe

— Florida Georgia Line (@FLAGALine) January 29, 2014
Good morning!! Thanks for the ACM noms!! Bout to fry up some eggs & celebrate. pic.twitter.com/NMLzNW82Z9

— KACEY MUSGRAVES (@KaceyMusgraves) January 29, 2014