Does Mindy McCready Have a Case Against Her Mother?
Music City News Media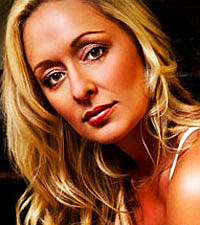 Music City News Media
After illegally taking her son, Zander, from Florida and fleeing with him -- first to Tennessee and then to Arkansas, where she was eventually found by authorities -- you'd think Mindy McCready doesn't have a leg to stand on in the custody battle over the little boy. That's not to mention the troubled singer's rap sheet of drug and alcohol-related crimes, her multiple stints in rehab and suicide attempts. Yet the 36-year-old left a private hearing in an Arkansas courtroom earlier this week with a big smile on her face ... hinting to reporters that she may have avoided kidnapping charges and even won custody of her 5-year-old son, at least temporarily. So what gives Mindy an edge over his legal guardian, her mother Gayle Inge? According to the 'Ten Thousand Angels' singer, it could be something rather shocking, as she has publicly accused her mother and stepfather, Michael Inge, of abusing Zander, both physically and emotionally.
"There was absolutely never any abuse in this home," said Gayle, responding to the accusations on NBC's 'Today.' "We're sad that she made that allegation. She's been here with him ... There's many tapes and videos, and there's been a lot of scrutiny as far as DCF (Department of Children and Families) workers are here continually ... We are sure there is no abuse here."
An unlikely ally in Mindy's case to gain custody of her son is the very person she's battling.
"We actually would love to see [Zander] with his mother," Gayle tells NBC. "We've said to Mindy over and over, if she'd just work a plan to get her child back, whatever she can do ... We were in hopes that she could have her child back. We just wanted to be grandparents."
But in yet another twist in this ongoing drama, Mindy finally has someone backing her claims that the little boy was abused in the Inge household. NBC reports that the singer's grandmother, Joan Sancel, has signed a sworn affidavit alleging that Gayle and Michael Inge follow "cultist beliefs" of the Treasures of the Snow religious group. She claims that Zander would "be hit with a wooden spoon for punishment," as a result of the couple's religious beliefs.
Gayle and Michael Inge are both ministers, but again deny all allegations of abuse. In further examination of Treasure of the Snow, which is led by the Inges, the group has a website that promotes faith-based living and Christian beliefs through spiritual blogs, Bible verses and a section for prayer requests, among other features. There is nothing on the site about corporal punishment.
Zander's father, Billy McKnight, also denounces the allegations of abuse in the Inge home. "Gayle is a wonderful human being," Mindy's ex tells Taste of Country. "Why [Mindy] and her mother don't get along is disheartening. I don't know why. Gayle reaches out to her. I've been there."
Regardless of Mindy claiming she's a "happy girl" when leaving her closed-door court hearing this week, Zander's custody is not settled permanently. The state of Florida has custody of the little boy, while Gayle Inge has been his legal guardian since 2007. Billy McKnight has unsupervised visitation rights, while Mindy's visits are to be supervised.
"I think that's part of the problem," Gayle tells NBC of the custodial uncertainty. "I don't think Mindy's ever processed the fact that we don't have any rights, we can't make any decisions. We're really sad, because we don't know what the outcome of this [will be]. We do know there's a very lenient judge who's given her so much grace. And the fact that she's pregnant, we plead for mercy."
Mindy is seven months along with twins. The babies' father, Mindy tells the Associated Press, is a music producer named David. The singer gushed about her new beau with The Boot back in April of 2010. "I'm dating a producer, songwriter, genius musician. He's a wonderful guy from New Orleans," she told us. "He is the sweetest and most wonderful person I have ever had in my life ... This is a different kind of love -- a grown-up kind of love, a real kind of love."
Whether the twins will grow up living with their big brother remains to be seen. Legal experts tell NBC that the court views what Mindy did -- taking her son without legal permission -- is considered kidnapping. Ignoring a court order and igniting a three-state search could ruin her chances of getting custody.
Gayle Inge insists she hopes the courts will see that her pregnant daughter can be a good mother, with help from family. And no matter the ugly accusations thrown her way, she remains on Mindy's side.
"I would tell her that I love her," she told NBC when asked what she'd say to her daughter if she could. "I would tell her that no matter what she's said, I'm a mom. I can't stop loving my daughter."